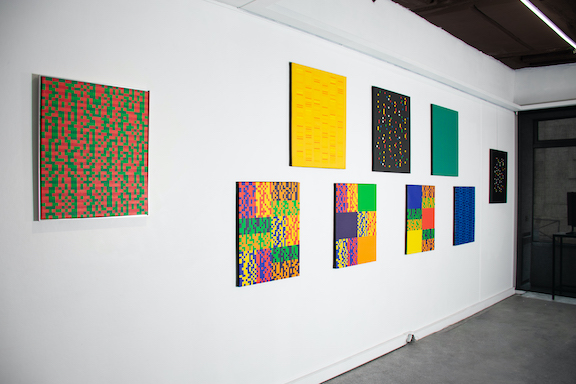 Jean-Claude Marquette: Poetry in Algorithms March 25 to June 4, 2021
RCM Galerie is pleased to present Jean-Claude Marquette: Poetry in Algorithms the first one-person show of the French computer artist in nearly fifty years. The exhibition, which opened March 25 2021, has been extended through June 4.
A founding member of the Groupe d'Art et Informatique de Vincennes, the pioneering French collective that used computers as a tool to make art at a time when machines occupied entire rooms, Marquette created a body of work in the 1970s based on transforming a poem by Russian avant-garde writer Velimir Khlebnikov into a coded language that he then transcribed in a series of paintings, drawings and prints. Marquette's work was exhibited at the important New Tendencies 5 exhibit in Zagreb in 1973, and he participated in myriad exhibitions of computer art throughout the 1970s. The exhibit features some twenty of the most representative works of the artist, who has been included in museum surveys of early computer art, such as the recent Coder le Monde at the Pompidou Centre in Paris.