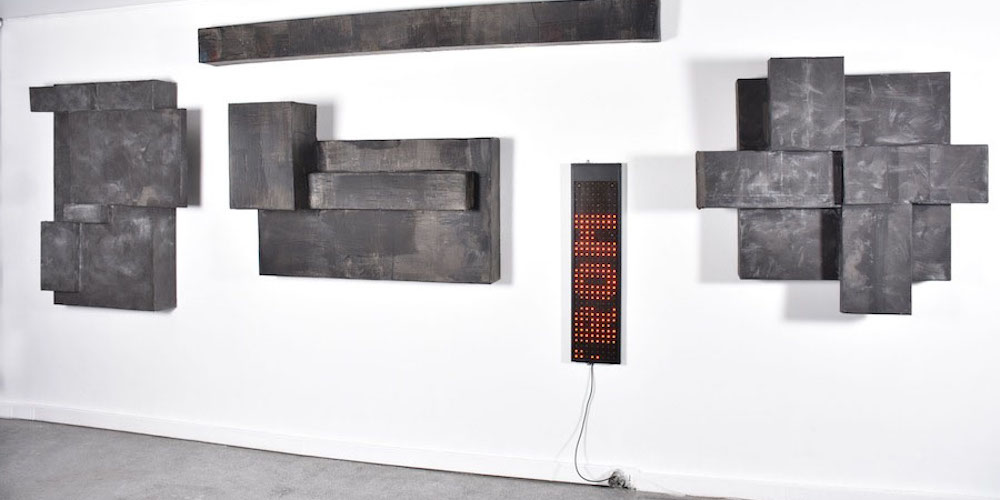 Jaroslaw Kozlowski
Exercises in meaning January 11 – February 27, 2018

RCM Galerie is pleased to present the exhibition Jaroslaw Kozlowski: Exercises in Meaning. Open from 11 January to 27 February 2018, it is the first collaboration between the gallery and the Polish artist, whose investigations of the concepts underpinning art and its expression date back to the 1960s.
Works in the exhibition have been selected as a window on the continuity of Kozlowski's work from the 1960s to present and underscore the artist's indefatigable attempt to understand and describe the mechanisms of art. They include a trio of his earliest paintings from the Absence series in which Kozlowski cuts rectangular apertures into a canvas painted with a dark and textured abstract landscape. The works are a conceptualization of the pictorial surface and expose the relationship Kozlowski explores between words (in this case the title) and the art object.
Created under the regime of communist Poland and its secret police, one can now see the paintings as commentary on political purging of ideas, space and even people. Also exhibited from the 1960s are a series of drawings measuring space: Exercises in Measurement. These works are made of crude lines and curves with numbers measuring with dubitable precision the space of a sheet of paper.
One can trace references to the pursuit of perfection of perspective and form, which have obsessed artists from the Renaissance. Kozlowski's drawings intellectualize this pursuit. Contemporary work in the show includes Rhetorical Figures (2009), an installation of rough cardboard, geometrical reliefs accompanied by a LED screen scrolling a bulletin of "NO NEWS" from various important cities around the world. The works are a commentary on the attractive nature of modernism and what it means to purse these forms in art.
Jaroslaw Kozlowski was born in 1945 in Srem, Poland. After studies at the State Graduate School of Visual Arts in Poznan, where he has taught drawing since 1967, Kozlowski asserted himself as one of Poland's leading conceptual artists. He has exhibited widely in Europe and has work in leading museums. Parallel to his artistic practice, Kozlowski has been a major force in promoting artists in Poland. In the 1970s, he created NET as a mail correspondence program with hundreds of artists around the world to promote the free circulation of art and he also ran a gallery in Poznan, Akumulatory 2, as an avant-garde venue in Communist Poland for some of the most challenging art of the time.
Kozlowski's recent exhibitions include: "Sensation of Reality and Conceptual Practices 1965-1980," a solo retrospective at MOCAK, the museum of contemporary art in Cracow, the "The New Décor," at Garage Centre for Contemporary Culture in Moscow.
The exhibition marks the first time Kozlowski has shown in Paris since the 1970s.