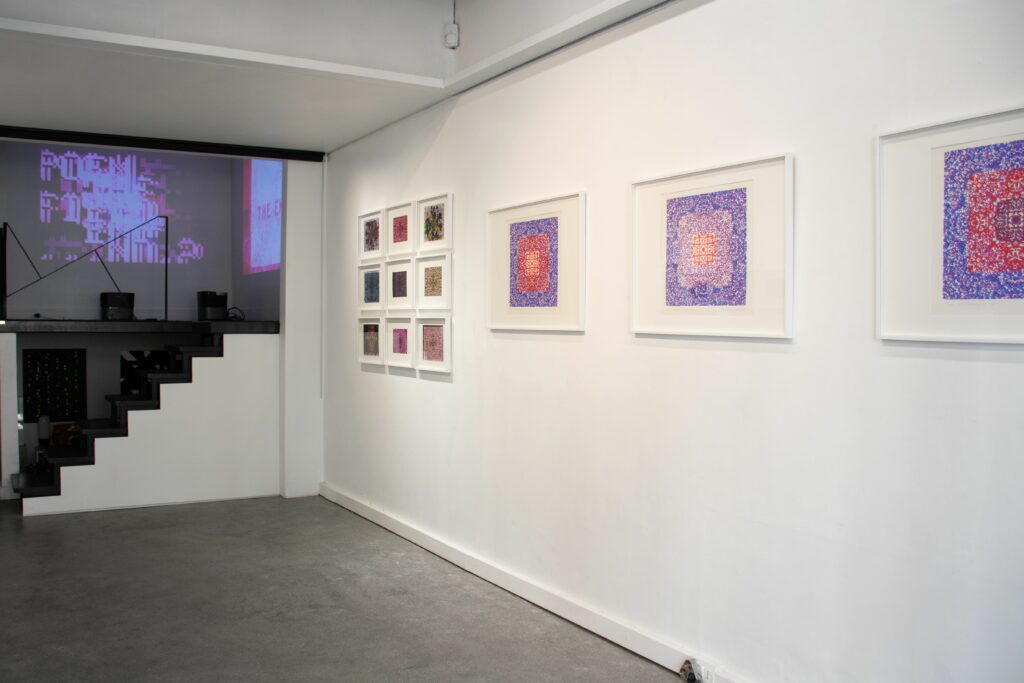 Stan VanDerBeek
Work with Computers May 19 – July 4, 2022

RCM Galerie is pleased to present Stan VanDerBeek: Work with Computers, featuring several of the American artist's seminal "Poemfield" films made with the American comptuer programmer Ken Knowlton in the 1960s. Also on view are works on paper made with comptuers, illustrating the innovative nature of VanDerBeek's asethetic and its blending of computer code with concrete poetry and avant-garde imagry and music, such as the John Cage composed soundtrack for the film Poemfield No. 7 (1967).
Stan VanDerBeek (1927-1984) was a prolific multimedia artist known for his pioneering work in experimental film and art and technology. Born in Bronx, NY, he studied at The Cooper Union for the Advancement of Science and Art, New York (1948-1952), and Black Mountain College, Asheville, NC (1949-1951). He lived in Baltimore until his death in 1984. During his lifetime he was the recipient of numerous grants and awards including a Ford Foundation Grant for Experimental Films (1963-1964); Rockefeller Grant for Experimental Films and Studies in Non-verbal Communication (1967-1968); National Endowment for the Arts Grant for Experimental Film and Video (1977-1978); Guggenheim Fellowship (1979); National Endowment for the Arts Individual Artist Grant for Computer Animation Research (1981-1982); and awards at Bergamo Film Festival (1960); Oberhausen Film Festival (1961); Expo '67. Montreal (1967); and Mannheim Film Festival (1968), among others.
From 1969-1970 he was artist-in-residence at WGBH-TV in Boston, MA under a Rockefeller Grant for Studies in Experimental Television simultaneously with a Fellowship at the Center for Advanced Visual Studies at MIT in Cambridge, MA. Various projects included the construction of Movie-Drome an audio-visual laboratory for simultaneous projection, at Gate Hill Coop, Stony Point, NY (1964-1966); Computer Animation Series at Bell Telephone Laboratory in Princeton, New Jersey (1964-1968); Violence Sonata, a live theatre event for two television channels produced as an artist-in-residence at WGBH, Boston MA (1969-1970); Panels for the Walls of the World, a fax mural made as one of the first artist-in-residence at MIT's Center For Advanced Visual Studies, Cambridge, MA (1969-1970); Cine-Dreams, an overnight multimedia presentation for planetarium, Rochester, NY (1972); and Steam Screens, projections onto Joan Brigham steam installation, Whitney Museum of American Art, New York, NY (1979).
His filmography includes over one hundred experimental and innovative 16mm and 35mm films and videos in black and white and color spanning collage, animation, computer graphics, live action, performance documentation, found footage, and newsreels. Retrospective film screenings during his lifetime were hosted by the Museum of Modern Art, NY (1968); Whitney Museum of American Art, NY (1970); Film Forum, NY (1972); Anthology Film Archives (1977); The American Film Institute Theatre at the John F. Kennedy Center, Washington, DC (1979). Multimedia presentations were held at venues including Lincoln Center, Philharmonic Hall, NY (1965); Guggenheim, NY (1980); Whitney Museum of American Art, NY (1979); Walker Art Center, Minneapolis (1981); Tokyo, Japan (1969); Athens, Greece (1970); and Shiraz-Persepolis Art Festival, Iran (1971).He collaborated on projects with many peers including John Cage, Merce Cunningham, Nam June Paik, Kenneth Knowlton, Paul Motian, Claes Oldenburg, Gerald Oster, Sonia Sheridan, Elaine Summers, and Robert Brown and Frank Olvey, among others.His works are collected in many major museums around the world, including: Museum of Modern Art, New York, NY, Whitney Museum of American Art, New York, NY, The Art Institute of Chicago, Chicago, IL, Walker Art Center, Minneapolis, MN, The Pennsylvania State University, State College, PA, Los Angeles County Museum of Art, Los Angeles, CA, and Centre Pompidou, Paris, France.